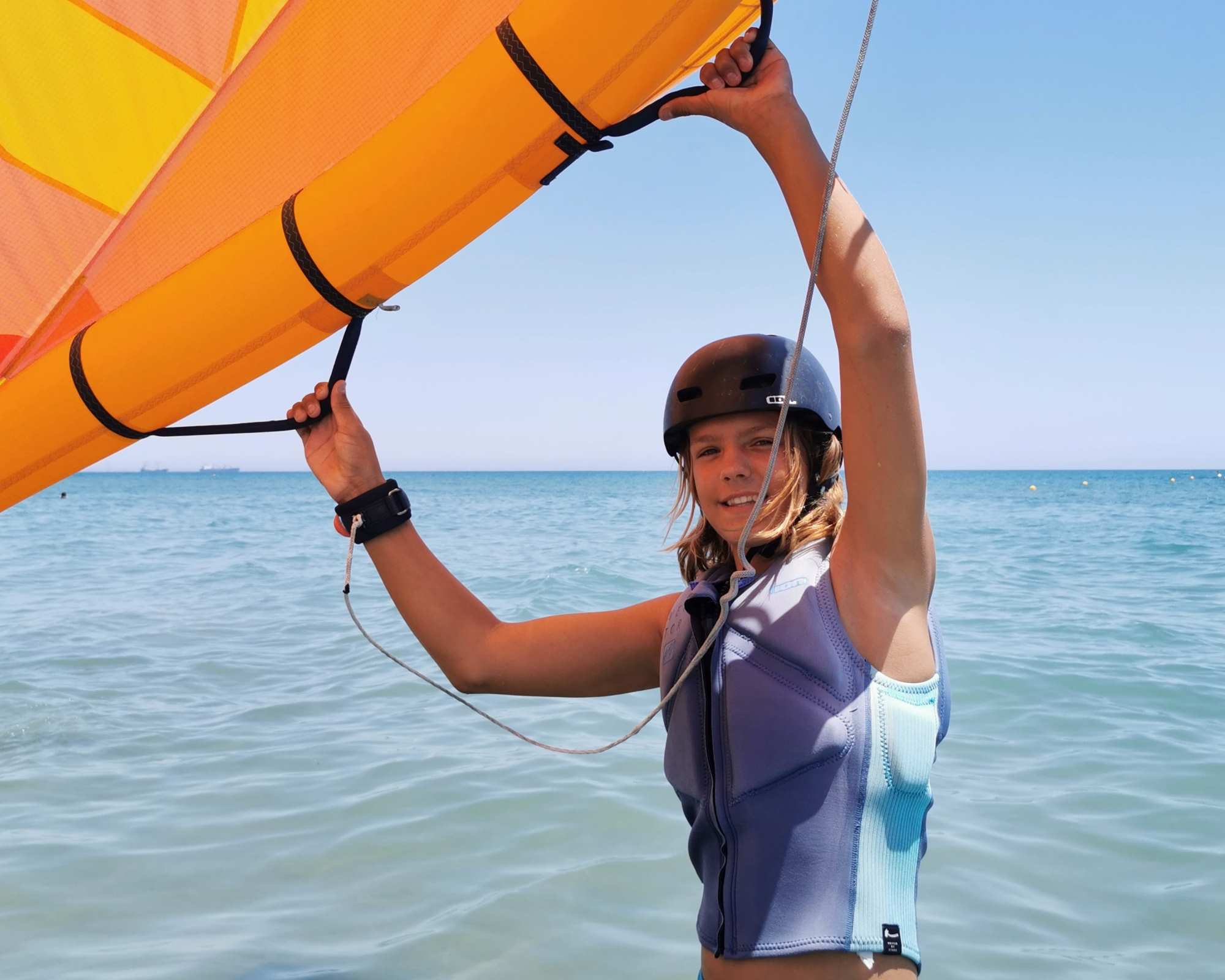 WING FOIL IN CYPRUS
LESSONS FOR BEGINNERS
Easy to use, easy to learn!
Wing Foil in Cyprus has become a new and fun way to enjoy water sports in light wind conditions. Our staff can teach you how to wing foil it in no time. The Wing Foil is a mix between windsurfing and kiteboarding. The conditions for learning how to Wing Foil at Mackenzie Beach in Cyprus are perfect. Our school is directly at the beach, where you can start your Wing Foil experience or improve your skills. We also organize wing foil seminars, where we can teach you the basics in no time!
WING FOIL LESSONS IN CYPRUS FOR NON-WIND SPORTS EXPERIENCED
Learning to Wing foil is sometimes considered to be hard and challenging. But with the right equipment and professional coaching, you will be able to make a safe and fast entry into Wing foil.
Wing Foil lessons are available to everyone, but when you never used a foil in any other discipline, we will take it step by step to guarantee your safety.
The Wing Foil Course for beginners is the perfect way to learn to wing foil professionally and safely. In 1-2 days you will learn everything essential about wing foiling step by step in theory and practice with our experienced instructors.
Our Wing foil course for non-experienced in wind sports includes:
On Land: 1 hour
Learning how to set up the wing and handling on land

Flying the wing on land: power depower, upwind downwind, walking with the wing.

Transition change direction, change of hands.

How to steer upwind and downwind




In the Water: 2 hours

Safety exercises, paddling on the board with the wing.

Getting going on knees and standing up.

Learn how to gibe. On knees/standing

Practice.
Our Wing Foil course for wind sports experienced includes:
On Land: 1/2 hour
Learning how to set up wing and handle on land.

Flying the wing on land: power depower, upwind downwind, walking with the wing.

Transition, change directions, change of hand.




In the water: 1/2 hour on beginner board, 1 hour on foil board.

How to rotate wing-recovery

Safety exercises, paddling on the board with the wing.

Getting going on your knees and stand up.

Sailing upwind/downwind

Learning how to gybe. On knees/standing

Practice
Customers Say:
''I had a wing foil lesson with Windsurf City Cyprus team and after that, a 10-hour rental ticket. It was a great experience and as a beginner that was the best way to get into wing foil. The whole team is super professional, supportive, and fun. They have the latest equipment and the conditions at Mackenzie beach make the whole process even easier! So I'm really super happy and I will definitely go there again! '' Natasha
Check our wing foil lessons HERE
Wing foil in Cyprus