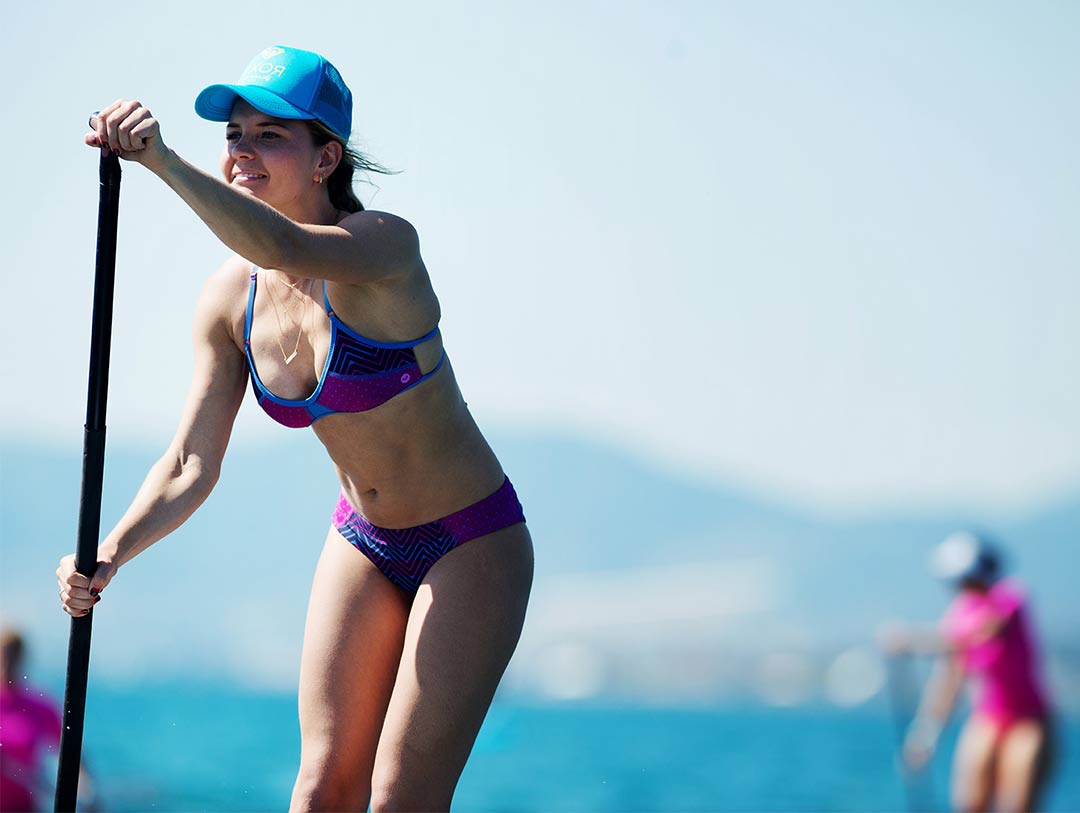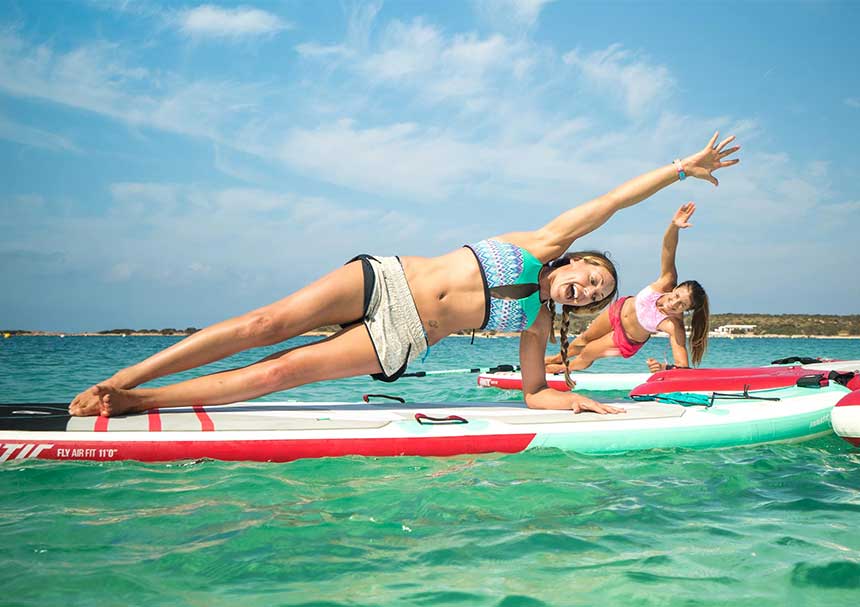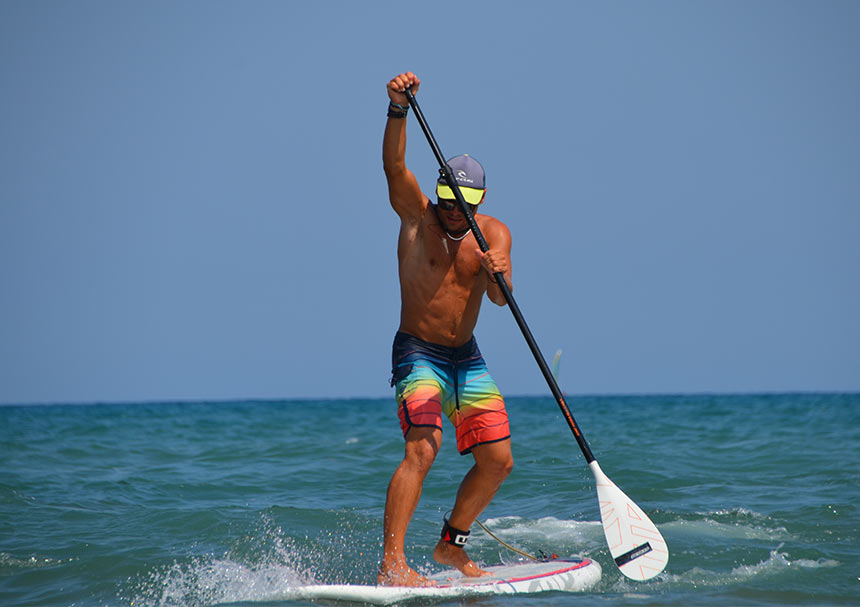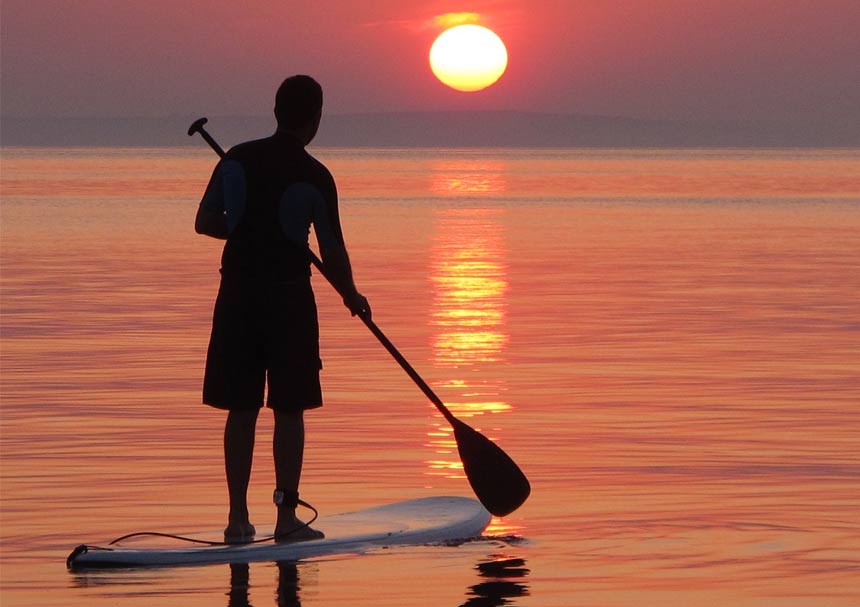 WHY A DAY ON THE SUP BEATS A DAY AT THE GYM

Everybody likes going to the gym. Or maybe, what they really like are the effects of going to the gym. Having a great body shape and improving and maintaining your personal health is something very important for everyone. And for me also! But sometimes going to the gym is a bit boring and not so exciting, isn't it? What if I tell you, that you can trade a day at the gym for a glassy sunny day out on a SUP board and still have the same and even better results?
I have made a small research and I have found quite a lot of reasons why a day on the SUP beats a day at the gym. Here are the top 7:
1.

SPENDING TIME IN NATURE IMPROVES YOUR MENTAL WELLBEING

Compared with indoors exercise, studies show that exercising outdoors is good for you and your mental health! By being out on the water, on your SUP board, you are unplugged from all the electronics, tv's and loud music gym has. Instead, you listen to the waves, breath fresh air, get your required dose of Vitamin D and last but not least you are clearing up your mind from all your worries!
After exercising on a sunny day outdoors, you experience a boost in positivity and energy and you get a sense of feeling alive and happy!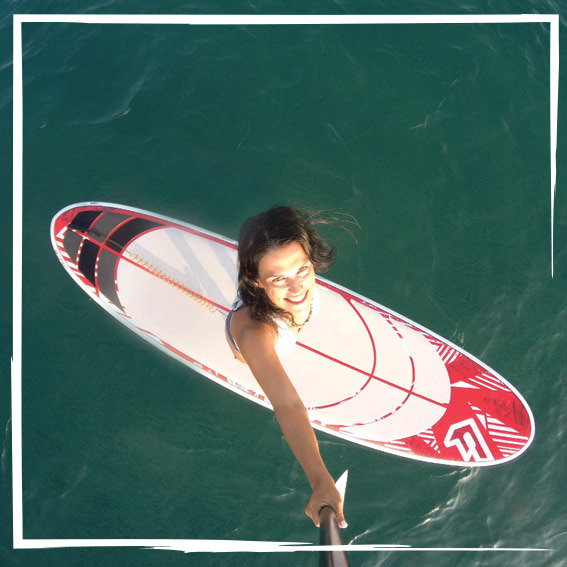 2.

IT FEELS LESS ROUTINE THAN WORKING OUT IN THE SAME ENVIRONMENT EVERY DAY

Many people don't like routines. Going to the gym at the same time, seeing the same people and doing the same workout is very predictable for some people. When you exercise outside on your SUP board, even if you do it the same time every day, every day is never the same! Every morning in Mackenzie beach, the environment is a little bit different, the weather and surroundings are never the same, plus if you are lucky you might see turtles and if you are very lucky, dolphins! How routine is that? :)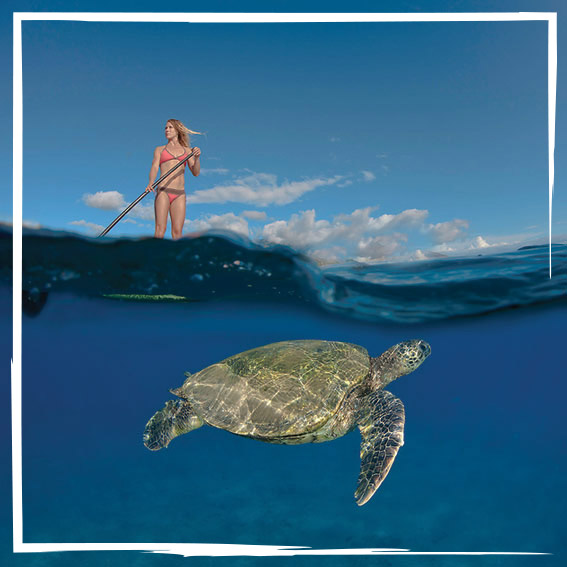 3.

IT DOESN'T SMELL LIKE SWEAT

Being out on the water, the only thing you smell is the sea and not the mixture of perfume and sweat all over the treadmill that you are going to use!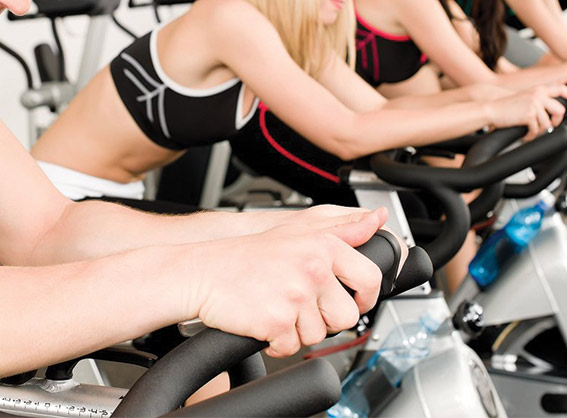 4.

SUP

COMBINES CARDIO WITH RESISTANCE TRAINING

The combination of both provide fantastic fitness results. This is the secret to training methods like the very popular CrossFit. Doing resistance exercise under aerobic stress increases strength, gains endurance and builds a stronger core. The fat burning abilities are much superior to just cardio on its own.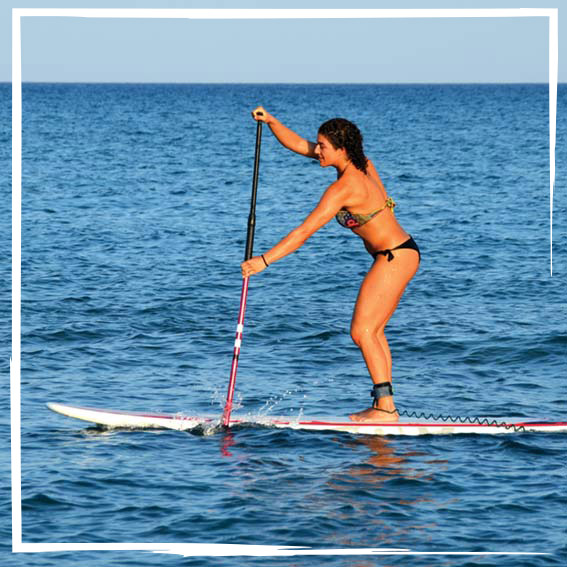 5.

IT'S A FULL BODY WORKOUT

Stand Up Paddleboarding is by definition functional fitness. It takes the whole body to be able to maintain balance on the board and paddle correctly and at some point while paddling you will engage every muscle in your body, targeting also those hard to reach areas, abs, buns, thighs and calves that everyone tries to work out in the gym.
Most of the beginners think that paddling is an upper body workout which is totally wrong. By paddling correctly, you will continually be engaging not only your back muscles, shoulders and arms, but especially your core, legs and torso.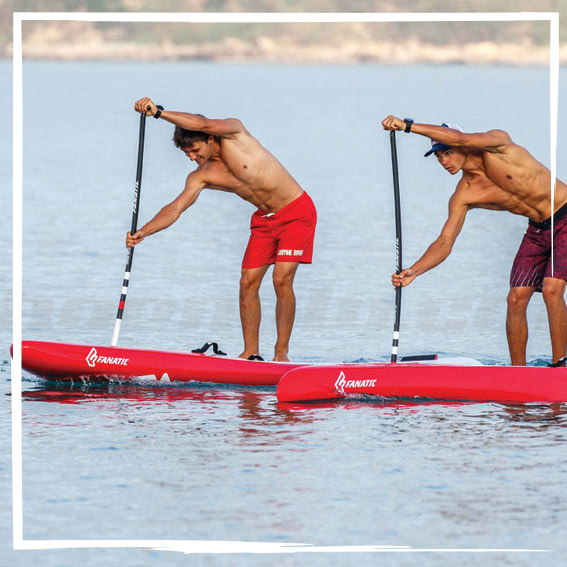 6.

YOU EXERCISE MORE WITHOUT REALIZING IT


Stand up paddleboarding is so amazing and fun that most of the times you don't even realize that you have been working out. By exercising outside, you may also be working harder and not even realizing it, especially if you hit on the SUP board instead of the treadmill.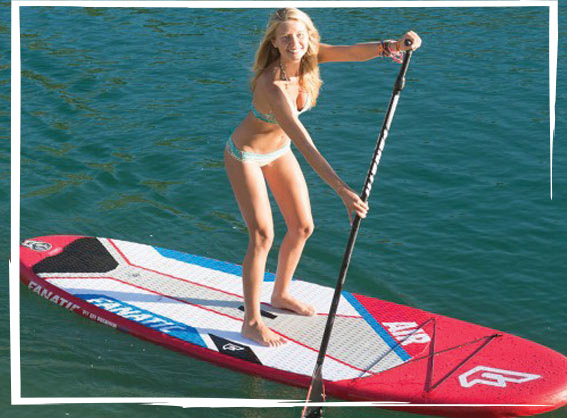 7.

IT'S A V

ITAMIN D INTAKE


Also known as the "sunshine vitamin", Vitamin D is another vital ingredient that improves your mental health. Vitamin D intake has a lot of benefits but most importantly, it promotes calcium absorption and keeps your bones healthy, according to The National Institute of Health.
Many Americans are not getting sufficient vitamin D from spending too much time indoors. Overweight people are almost twice as likely to not get enough vitamin D.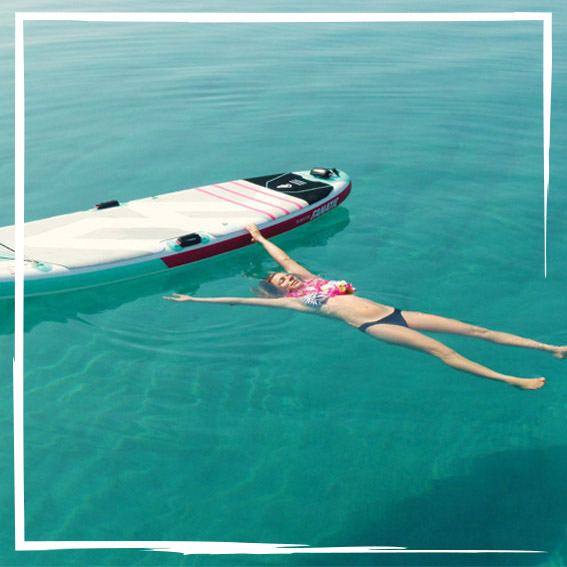 CALORIES BURNT DURING STAND UP PADDLEBOARDING


There are many ways to exercise stand up paddlboarding. You can cruise on flat water, race in the open sea, practices sup yoga, enjoy sunrise sup and even surf some waves.
Recreational Paddling: The most popular type of Stand Up Paddleboarding is recreational use. Normally performed as an easy paddle with calm water, light winds at a slow type pace. Even at a slow pace, you can burn between 305-430 calories in an hour!


SUP Touring: Touring means to go for a long distance at a moderate pace without stopping on your Stand Up Paddleboard. After an hour of touring, you can burn an average of 615-708 calories.


Paddle Board Surfing: Surfers say this is the best cross training you can do to improve your surfing skills. The rougher the waves, the harder a Paddle Surfer will work and the more calories will burn. On a typical normal surfing day, after an hour of Paddle Surfing at an intensive pace, catching waves every couple of minutes; we found out that you can burn between 623-735 calories.


SUP Racing: Racing SUP is a high-intensity Paddleboarding experience. There's no time to catch your breath or slow down…so your heart rate is at full capacity. Depending on stroke intensity, form, wind speed and water conditions your calorie burning will vary. Our subjects raced a 5 miles circuit and burned between 713-1,125 calories.


SUP Yoga: If you haven't tried it yet, give it a chance. SUP Yoga offers an intense workout for the mind, body and spirit. It requires an increased intensity that is far more challenging than land yoga. You can burn between 416-540 calories in an hour.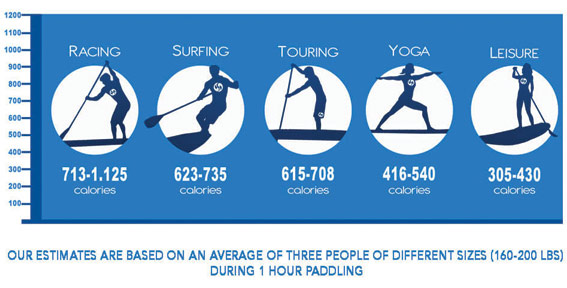 HOW TO LEARN

The great thing about Stand Up Paddleboarding is that no previous experience is required. It is an easy sport to learn for people of any age or fitness level and a great activity that families can share and do together! If you want to learn how to paddle all you have to do is take one lesson and then you will be able to paddle by yourself. The lesson is 30 minutes and includes technique, theory and safety and then you have another 30 minutes to paddle alone and practise.
You can check here our hourly, monthly and seasonal Stand-Up Paddle Tickets:
https://www.windsurfcitycyprus.com/sup-rentals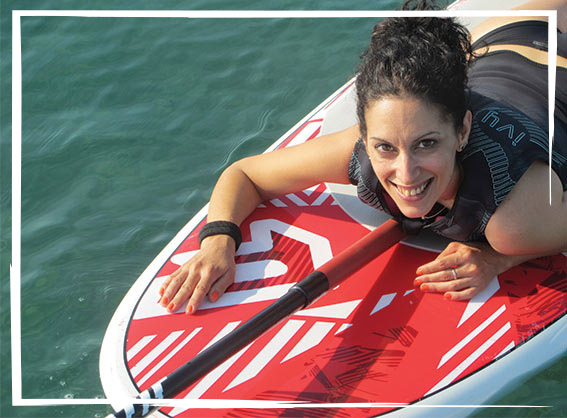 WHAT OTHERS SAY ABOUT SUP

I've run half-marathons, taught 3 classes of boot camps a day, been an avid yogi for 13+ years, taught kickboxing, aerobic classes, and used to bike 15 miles a day on some very hilly terrain. Yet, suddenly after doing SUP for 6 years, at 33 years of age, I feel fitter than ever! Jodelle Fitzwater Certified Nutrition Coach, Health Coach, Keto Coach