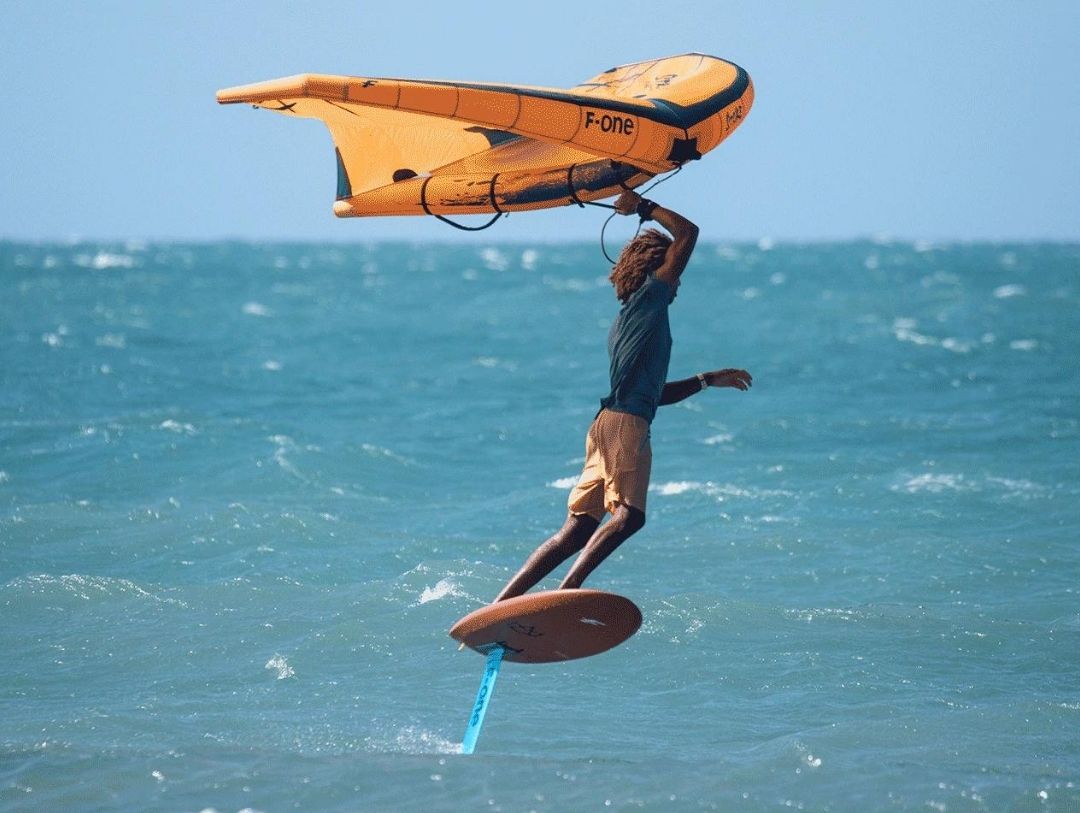 WHAT IS WINGING AND HOW DOES IT WORK?
Wing foil is a HOT new sport that has grown in popularity the last couple of years. Wingsurfing and wingfoiling, both use a handheld inflated leading-edge wing to power you along. Unlike windsurfing, the wing isn't attached to the board, but is controlled by your hands while you stand. The sensation of foiling / hydrofoiling is quite magical. As with most sports, but wind sports, in particular, initial learning can be challenging. But, with a few lessons and proper progression, the learning curve really accelerates.
WHAT'S THE DIFFERENCE BETWEEN WINGSURFING AND WINGFOILING?
The only real difference is the board. Wingsurfing uses a plain board, (a windsurf training board with a centre fin) or a stand up paddle board, whereas Wingfoiling uses a board with a hydrofoil attached underneath.
That being said… many people are now using the phrase "wing surfing" to also refer to doing the same activity as "wing foiling". There's no longer any difference between these two terms in many people's minds.
Wingsurfing is a great entry-level introduction. It's slower, easy to learn and requires less technique than wingfoiling. No previous watersports experience is necessary, making it a great option for all abilities and ages.
If you want to progress to wingfoiling you'll need a board and foil specifically designed for wingfoiling. Understanding how the foil works and more importantly learning how to control it takes practice, but with a little tuition, you'll be up and taking your first flights before you know it.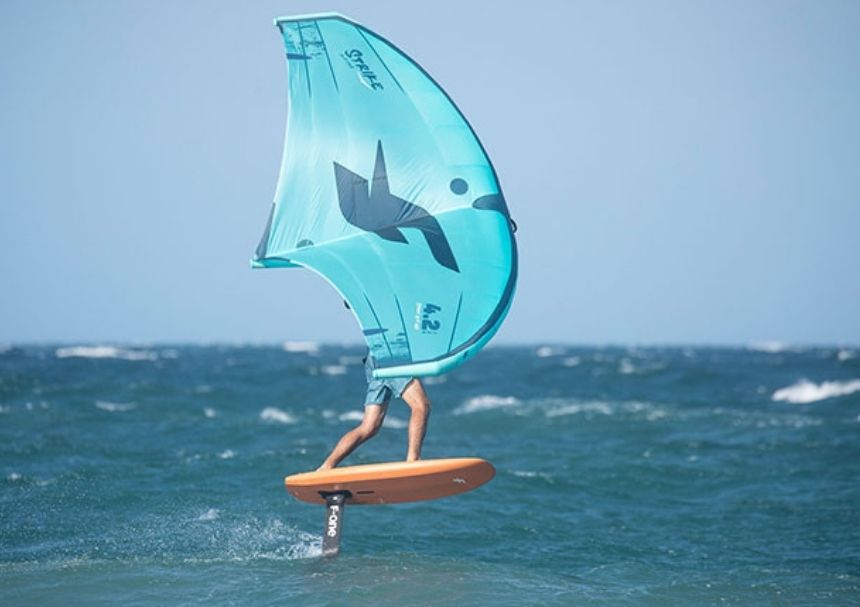 WHAT EXPERIENCE DO YOU NEED
This new sport appeals to anyone who love the water – including surfers, kiters, windsurfers, paddle boarders, and sailors, Or really just about anyone. Wing surfing/foiling offers water sports enthusiasts an easy and safe way to learn how to hydrofoil – which is one of the coolest sensations you will ever have.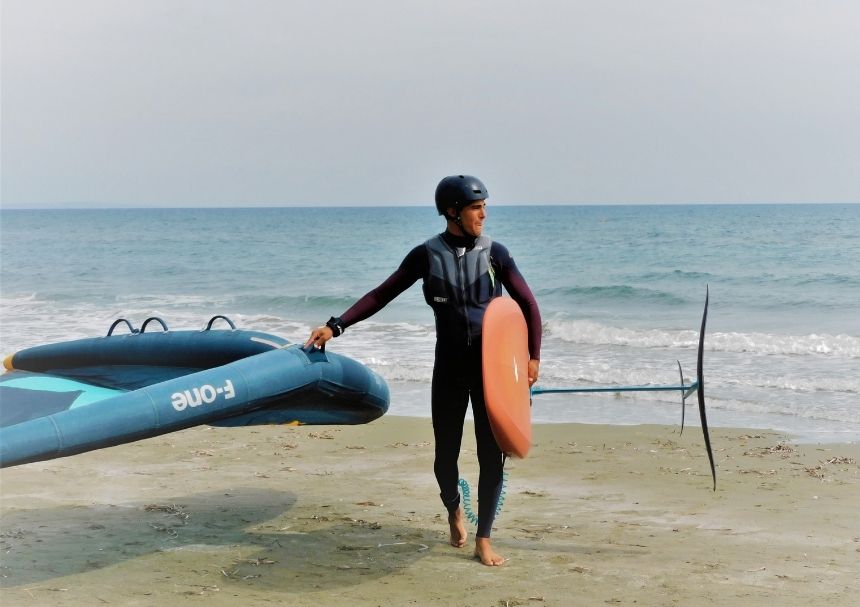 HOW DO I GET STARTED
Sounds good? It couldn't be easier to get started. We have developed 2 Winging Courses that will get you to "float" or "fly" over the water quickly and safely. The one is for non-windsurfers/ kite surfers and the second for windsurfers/kitesurfers who already have experience with the wind.
In both cases the first thing to learn is how to set up, handle and fly the wing on land, power depower, upwind downwind, walking with the wing, transition, change directions, and change of hands. Then trying the wing in the water with a training board and the final step is to use both the wing and the foil board!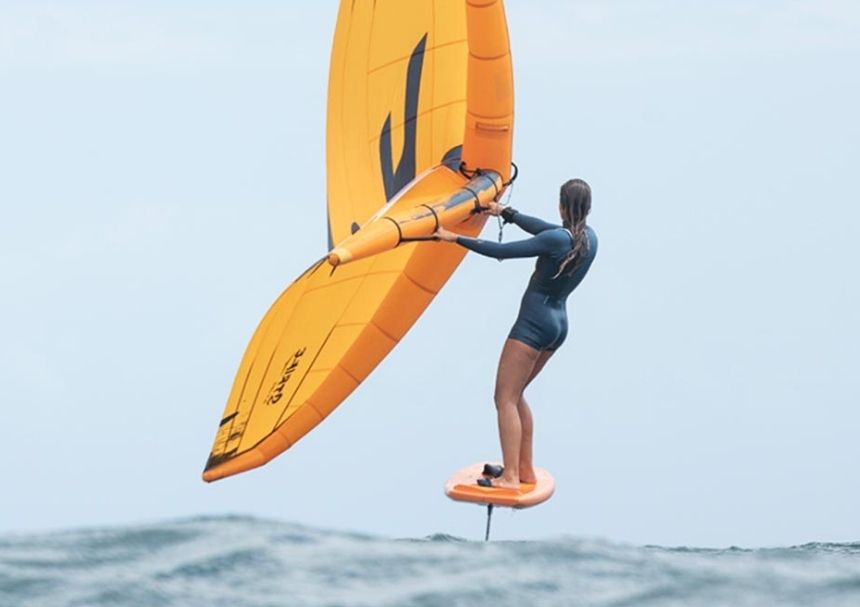 THE ADVANTAGES OF WING SURFING/FOILING
Wing foil is for all!
As we mentioned before regardless of whether you are an absolute newcomer to water sports without previous wind and water knowledge or as an experienced windsurfer or kitesurfer, with the new trend, especially for the weaker wind days, wing foil is for anyone who wants to have some serious fun!


The foil makes wing foiling a lot of fun even in very light winds.


One of the things that are really exciting about foiling is that conditions that are bad for windsurfing are perfect for foiling. Those low wind days became a paradise for blasting and carving around on the foil board! The wing creates even more opportunities. The length of ride you can achieve is unbelievable, in conditions you would otherwise struggle with.




Wing foiling is the most incredible feeling.


The sensation of glide, even on choppy water, means you become hooked very early.




Low material expenditure, unlike windsurfing or kiting you need a lot fewer wings, with one wing you can already cover a very large wind range


The workout for the whole body is enormous and yet it is not weight training and is easy to do even for light and small people.
We are convinced that wing foiling is clearly an easy sport to learn with the right conditions and proper equipment. So what are you waiting for? If you want to learn how to wing foil in Cyprus call us now to book your first wing lesson with us at 0035796445101
For more information about our lessons visit the links below:
Wing-foil lesson for non-wind/kite surfers.
Wing-foil lessons for experienced windsurfers/kitesurfers
wing foil cyprus